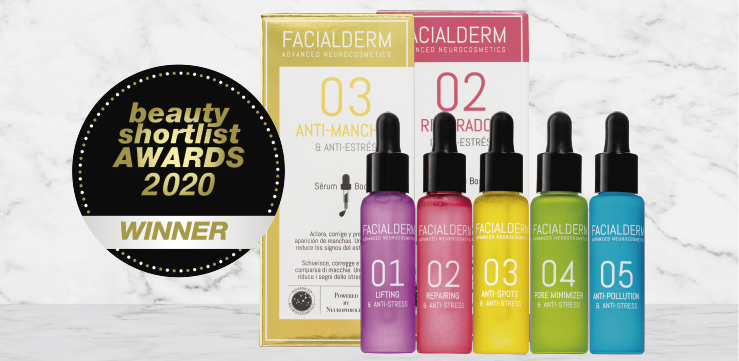 Facialdermhas been the winner of the Beauty Shortlist Awards, as Best Beauty Breakthrough – Brand (innovation).Thanks to the great commitment and investment to launch an innovative and pioneering line in the market that fights the signs of facial stress, it has achieved international recognition for innovation.
This recognition comes shortly after the nomination to the Pure Beauty Global Awards in the category of Best New Anti-Aging, with two products from the Antistress and Anti-Aging Facial line:
It is specially formulated for mixed and oily skins with moisturizing, sebum-regulating and astringent active ingredients that normalize sebaceous secretion and minimize the pore size. It is indicated for mixed or oily skin with dilated pores and its main ingredients are bioavailable zinc, an astringent vegetable extract, which immediately reduces pore size, Neurophroline®, hyaluronic acid, vitamin B and allantoin.
Formulated with moisturizing, antioxidant and detoxifying active ingredients, it is indicated to protect the skin during the day from external aggressions, with which we are in daily contact. Anti-pollution power, protection against heavy metals present in the air, pollutants and blue light from electronic device screens. It can also be applied at night to treat the aggressions suffered by the skin during the day. Nourishes, repairs and regenerates skin cells. It is suitable for all skin types and its main ingredients are antioxidant plant extracts (reverses the effects of pollution and prevents the action of free radicals, as well as acting against heavy metal nanoparticles), marine glycogen (EMR and blue light radiation protection, Neurophroline®and vitamin B5.