Description
/01
Sérum booster LIFTING & ENERGIZANTE & ANTI-ESTRÉS FACIAL.
Reaffirms, revitalizes, and reduces stress marks on your skin.
CONCENTRATED FORMULA WITH:
Colagen peptide (3%):
Increases elasticity, firmness and smoothes wrinkles. High penetration power in the skin, stimulates the synthesis of structural proteins of the skin (collagen, elastin and filagrina) and anchorage (laminin and integrin) between the dermis and the epidermis. It redensifies the dermis and epidermis and maintains the integrity of the dermal-epidermal junction. Increases elasticity, firmness and smoothes wrinkles.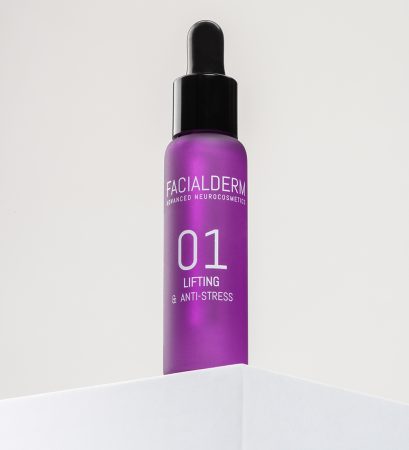 Energizing plant complex (3%):
Revitalizes, softens the skin relief, moisturizes and improves skin tone. It increases the synthesis of ATP, the fuel needed for most metabolic processes in the cell, increasing the components of the intracellular matrix.
Hyaluronic Acid:
Natural component of the dermis that contributes to the hydration, elasticity and firmness of the skin.
Neurophroline®:
Tephrosia purpurea extract, a plant native to India. This active agent has been shown to act by blocking or alleviating the negative effects of skin stress:
1. It decreases cortisol productionof skin cells by 70% in two hours.
2. It increases the synthesis of Beta-endorphins (+163%)causing a feeling of comfort and pleasurability in the skin.
3. And in just 48 hours, the expression of the main anti-stress enzymes increases: HMOX1 (+888%) and NQO1 (+528%).