Description
/c2
ANTIAGE & MATIFYING & ANTI-STRESS FACIAL Facial Cream
Fights the signs of aging and stress on the skin.
Ideal for normal and/or oily skin.
CONCENTRATED FORMULA WITH: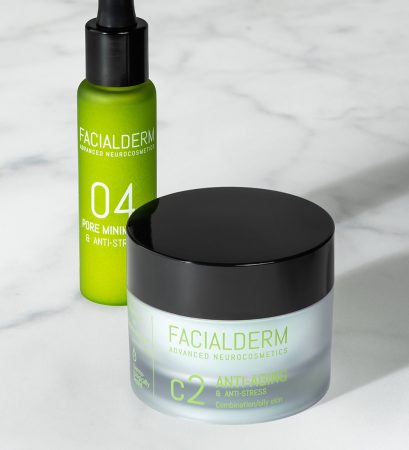 Bioavailable zinc (seboregulator):
It brings a double benefit:
a) Zinc normalizes sebaceous secretion and neutralizes excess free radicals.
b) Pyrrolidincarboxylic acid is a component of the Natural Hydration Factor and a precursor of amino acids constituting collagen (Proline and Hydroxyproline).
Mushroom plant extract :
With astringent properties, it regulates the size of the pores, smoothes the relief and leaves the skin soft and conditioned.
Vegetable extract of hazelnut (Renewing, regenerating and restructuring action):
Hazelnut extract rich in low molecular weight peptides (arginine, proline, glutamic acid…) and sugars (glucose, galactose, galacturonic acid…), which stimulates cell differentiation and growth, redensifies the dermis and epidermis and stimulates cell metabolism and the synthesis of proteins and epidermal lipids that are part of intercellular cement. Increases elasticity and firmness of the skin and reduces wrinkles.
Neurophroline®:
Tephrosia purpurea extract, a plant native to India. This active agent has been shown to act by blocking or alleviating the negative effects of skin stress:
1. It decreases cortisol productionof skin cells by 70% in two hours.
2. It increases the synthesis of Beta-endorphins (+163%) causing a feeling of comfort and pleasurability in the skin.
3. And in just 48 hours, the expression of the main anti-stress enzymes increases: HMOX1 (+888%) and NQO1 (+528%).