Description
ANTIAGING & MOISTURIZING & FACIAL ANTI-STRESS CREAM
Fights the signs of aging and stress on the skin.
Ideal for normal and/or dry skin.
CONCENTRATED FORMULA WITH: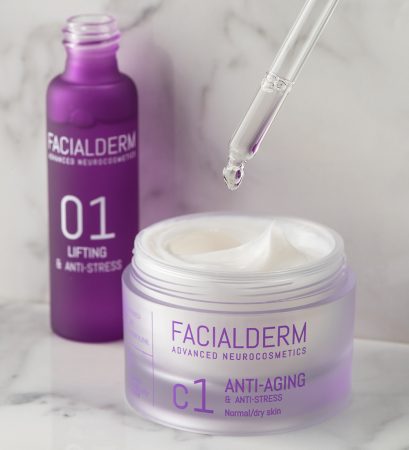 Hyaluronic Acid:
Natural component of the dermis that contributes to the hydration, elasticity and firmness of the skin.
Chondrus Crispus Extract is an extract of red algae (Chondrus crispus):
red algae rich in Floridos, Arginine and Taurine, antioxidant and energizing substances that neutralize the excess of free radicals and provide the cells with the energy necessary for their metabolism. Increases the synthesis of fibroblasts and favors the processes of regeneration and tissue repair.
Caviar extract:
Caviar extract, whose composition, rich in essential fatty acids, amino acids and mineral salts, vitamin B, zinc and iron, is similar to that existing in young cells of the epidermis. Provides nutrients and energy to skin cells. It repairs and regenerates skin structures and helps to slow down the aging process.
Rice extract:
Rice extract rich in sirtuin activating compounds, proteins that activate the expression of the longevity gene in the skin, prolonging the life of the cells and slowing down the process of cell senescence.
Neurophroline™:
Tephrosia purpurea extract, a plant native to India. This active agent has been shown to act by blocking or alleviating the negative effects of skin stress:
1. It decreases cortisol productionof skin cells by 70% in two hours.
2. It increases the synthesis of Beta-endorphins (+163%) causing a feeling of comfort and pleasurability in the skin.
3. And in just 48 hours, the expression of the main anti-stress enzymes increases: HMOX1 (+888%) and NQO1 (+528%).