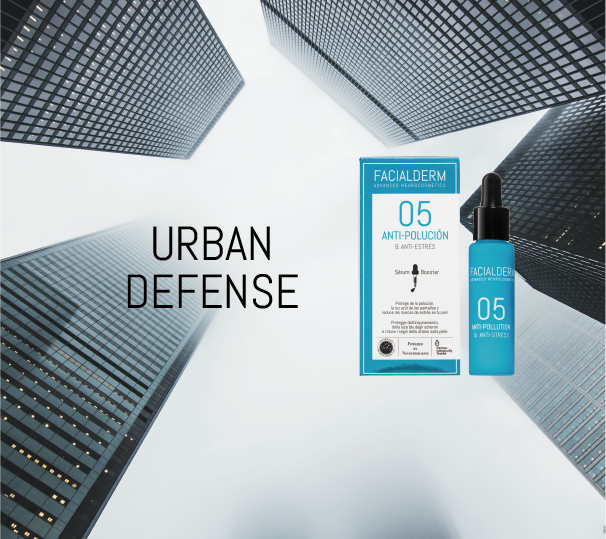 Urban Defense anti-pollution & blue light serum booster, your best ally to take care of your skin in the city
Nourishes, repairs and regenerates skin cells, helping to delay ageing and prevent the effects of pollution, blue light and stress
There are many factors of which we are not aware and to which our skin is exposed during our daily life. Increased pollution, environmental factors around us, and even long exposure to blue light from screens can cause premature skin ageing. Urban defense, an anti-pollution serum booster, is a powerful cocktail of antioxidant plant extracts which nourishes the skin's barrier to produce healthy, glowing skin.
We can define pollution as the accumulation of gases and particles harmful to human health and the environment in the air caused by man, such as greenhouse gases, the accumulation of CO2 or heavy metals. We are exposed to it on a daily basis, which affects us internally and externally, causing an excess of free radicals in our bodies, which leads to oxidative stress.
Another type of harmful external agent is blue light, a type of visible light that exists naturally (sun) and artificially (screens). While the light generated by the sun is not dangerous to humans, the amount of artificial Blue Light generated by screens is much greater than natural light and is more harmful due to the wave of light they emit. It is said that we spend an average of 11 hours a day in front of a screen, which can cause the well-known «digital ageing», which leads to loss of elasticity and firmness, premature ageing, the appearance of wrinkles or skin pigmentation.
Urban Defense, our great ally to protect the skin from urban life
Rich in antioxidants, moisturising and repairing active ingredients, this double-action serum booster in dropper format (30ml) nourishes, repairs and regenerates skin cells, helping to delay skin ageing in the face of the effects that environmental pollution and Blue Light emanating from screens play on our skin.
Shortlisted in the Pure Beauty Awards 2020, Urban Defense is formulated with antioxidant plant extracts (which reverse the effects of pollution and prevent the action of free radicals, as well as acting against heavy metal nanoparticles) , marine glycogen (EMR and Blue Light radiation protection), Neurophroline™ and Vitamin B5.
In order to protect the face from the aggressions it suffers in daily life, this serum should be applied both day and night. Thus, during the day it protects the skin from environmental pollution, while at night it repairs the damage caused by pollution thanks to its antioxidant action. Double action, protective and repairing. The anti-pollution serum booster cannot be missing among your essentials.